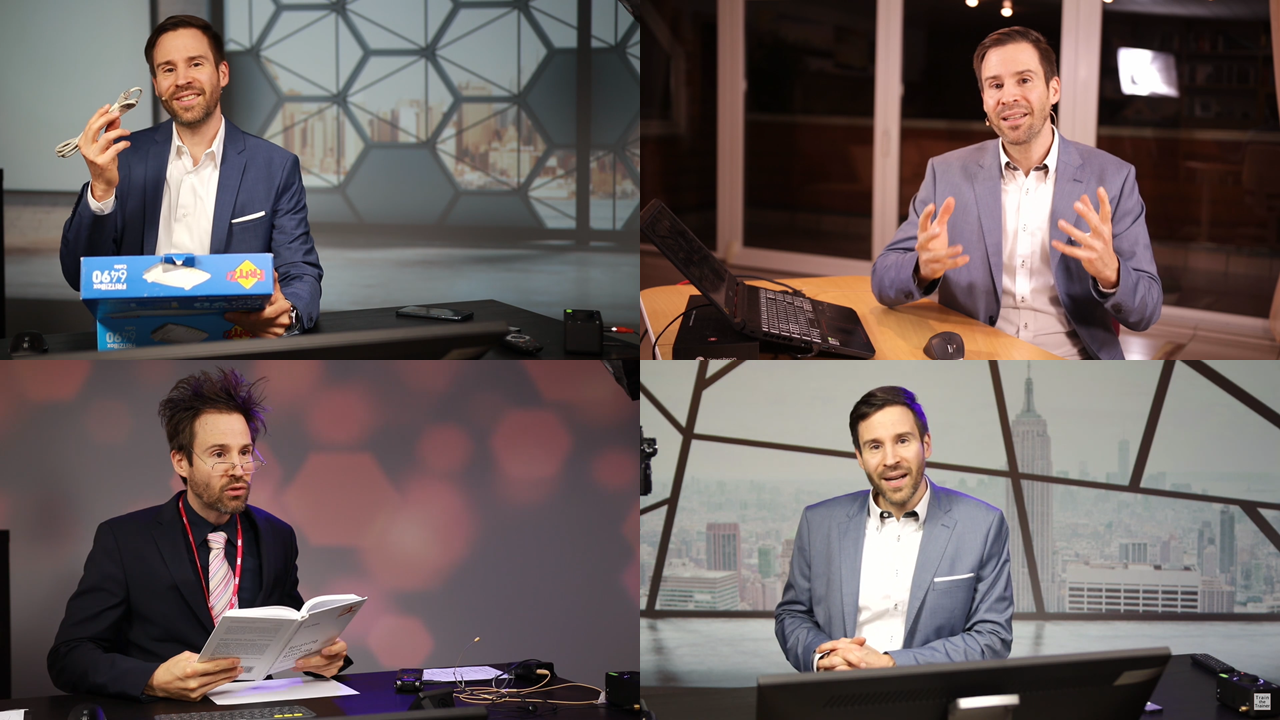 At https://ist.training/start under the heading Become a certified online trainer:in you will find our training for everyone who wants to design and hold online training courses. (Many of our participants also describe their experiences there.)
What problem does your training solve?
There are four half-Saturdays and a few training rounds (each 1.5 hours) in the evening. There is also a full-fledged on-demand video program that is activated to match the topics.
🔰 Participants who are not trainers yet
Personnel developers, HR experts, consultants or people in expert roles / in management roles come to us. They often have no coaching experience and that's not a problem. The past has shown this impressively.
Here are typical questions that participants who have little or no coaching experience ask themselves:
🏁 "How do I even approach the topic of online training?"
Beginners in the field of trainers particularly appreciate the methods of keeping participants in online seminars "on track". In addition, they also get to know how the training world ticks from the other participants who bring experiences from the real world.
🧱 "How to build a training for the virtual world?"
Those who have little or no trainer experience almost always give us positive feedback on all interaction methods and especially on the structure workshop, which is offered on two evenings. The methods can almost all be used independently of online tools.
🛒 "How does the online training market tick?"
Some of you do a free "preliminary course" with me before we start the introductory meeting. Here we show which training topics are mainstream, where money is currently being made and which training markets actually exist.
😕 "I don't know yet if the trainer thing is for me?"
This question comes up occasionally. After the first main appointment (Saturday) everyone knows it. We've never had an opt-out, but if you wanted to opt-out after the first appointment, then that wouldn't be a problem. (We generally only issue the invoices after you have completed the course!)
🔨🔧 "Which tools should you use in online training anyway?"
We could answer the question about the tools with a list. You can even find our free eBook on the subject below. It's much more than just a list.
However, during the training, the question quickly shifts to "How do I actually use the recommended tool xy if I want to achieve something specific?" And so it happens that our "newcomers" quickly ask the questions that people with coaching experience also want to clarify.
🥉 People with coaching experience
Employees & self-employed trainers now make up over 55% of our participants. Here are the questions we solve together:
🏋️ "How on earth do I get practice with these online training tools?"
One of the most important aspects for many who start with us. Since every appointment (whether core appointments on Saturday or the short training rounds) always includes practice sessions, all participants have always been particularly happy with the topic "practice". Our training buddy system also contributes to the opportunity to exercise.
🔎 Which online training methods are really suitable for my trainer specialization?
We show examples of methods for the areas of soft skills (leadership, communication, new work, diversity, change, team development and similar) and (albeit a little less) hard skills (finance, pharmaceuticals, marketing, software and similar). In fact, most trainers today are not purely specialist trainers (hard skills), but want to impart important core competencies and skills (soft skills).
Each training session includes three classes of methods, which we casually refer to as candy, linear or open-ended.
Candy: Ice-Breaker or Check-Ins or Check-Outs
Linear: Exercises (interactions) for typical training situations in which I want to achieve a learning goal
Open-ended: Exercises (interactions) for open-ended sequences in which I want to moderate, collect ideas, identify problems or, for example, initiate an exchange of opinions. This also includes serious games, liberating structures and moderation methods.
I dare say that tried and tested methods are the focus of the entire training. We usually present a training / workshop problem, then show the method and then carry it out together with the help of an online tool (sometimes without it at all). At the end of the training, nobody really asks about tools anymore. The participants rather ask: "What do I want to achieve, and which method could suit the target group?" Only then do our participants consider whether there is an online tool that could make everything easier.
📚 How do I design the space around the live seminars (training support)?
Answer: With learning support measures that we discuss in a training round. In addition, our participants also experience our own learning support and discuss this during the training. In this way, everyone can form their own opinion, for example on how much learning support is required and whether it could be a sales argument for new customers.
A nice side effect is that asynchronous measures (training support) relieve your live training thematically. You can outsource more and more content. More on this in the training.
🛠️ How do I deal with tools I am less familiar with, e.g. B. with Big Blue Button or a GDPR-compliant board?
Especially participants with previous experience ask us about BBB, Teams, Conceptboard or Klaxoon. There are always customers who claim to use GDPR-compliant (sometimes exotic) tools. We cover many of them or can set up an extra training session. The GDPR-compliant conceptboard is e.g. B. just as much part of our training as Big Blue Button.
📅 How do I design entire seminar programs (several dates plus seminar support)
Larger programs with, for example, 5 or more appointments are a challenge if you have never done anything like this before. We share all our experiences on the "Big Picture" of such programs, on the stumbling blocks and what makes them successful (also commercially) in our training session. We also mention many things in passing in the main dates, which take place on the four Saturdays.
🕹️ What highly interactive methods are there that I can use to really inspire and activate clients or participants?
This is the most popular part of the training. We experience serious games from the participant's perspective, play through certain liberating structures and look at the transfer process from the participant's and trainer's point of view.
Of course, the methods are particularly fun because they are so interactive. However, the participants quickly notice that one or the other method could be particularly suitable for their own specialization or fit perfectly with their own target group. Participants do not forget a successful interaction. The goal for us trainers and online trainers is for our participants to say: "What, the seminar is already over?"
Transfer is particularly important to clients. This is where highly interactive methods shine. There is hardly a better way to initiate change more sustainably than with TBR, Liberating Structures and Serious Games.
🌴 As a company, how do I make myself increasingly independent of my working hours?7
Business models are important for some of our participants. For some, they are currently becoming more important. We discuss the future of training as well as sensible and lucrative business models and their implementation in our "Training Round E-Business & NFTs" newly developed for 2022.
👪 How can I work as an online trainer from home / with children / from abroad?
By offering online training. The more you deal with the above question (how do I make myself independent of my time), the more freedom you will be able to create for yourself. In fact, the reason why more and more people are going through our training is not Corona but the desire to be able to work independently: especially from wherever you want.
You can find some of the people who have gone through our training here.
You can read more about our why here