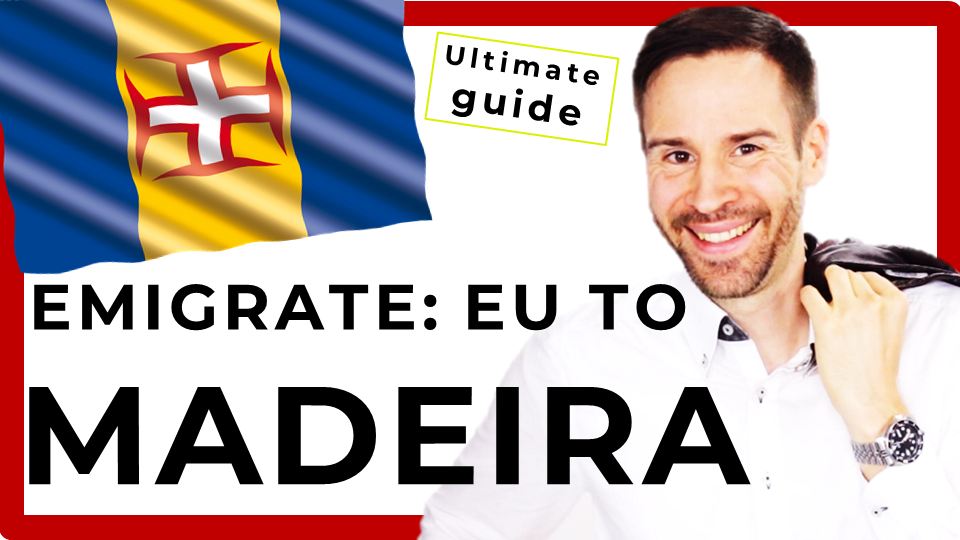 Ultimate Guide on How to Immigrate to Madeira from Any EU Country
I've been living here in Madeira for quite some time now, and I love it. I came from Germany, and I intend to live here for the rest of my life.
If you're like me, who's from a EU country and wants to emigrate somewhere else, put Madeira on your list. Keep reading until the very end because I will share the steps on how to move here with less headache. (Most of this post's content is also applicable to Portugal in general.)
Things to Consider When Immigrating to Madeira
To avoid all the stress and a drained wallet, you need to know about these three things first:
1. Moving and finding a place to live,
2. Getting out of your country's tax obligation and
3. Getting yourself a special taxation status for tax relief, it's called "NHR".
…and you must tackle them one by one – chronologically. If you skip a step, you will miss important documents for the next step.
A Quick Glance at Madeira
Madeira lies 1,000 km south of Lisbon. It is a Portuguese island and thus a part of the European Union. As an EU citizen, you can move freely to the island. However, after three months, you have to formalize your existing right for residency at your local city council.
Almost everyone here speaks English. If you know Portuguese or Spanish, that can be very helpful too.
Cliffs shape the island's profile. The inland can get up to 1.860 meters in height. The island is dotted with many panoramic views, mountains, and a wonderful countryside. And a few miles away you have Porto Santo, an island with beautiful beaches and pristine-clear water.
Its weather alone is a good reason why you need to come here. Enjoy abundant sunshine an average of six hours a day. In winter, the average temperature is 19°C. In the summer, it can climb to 26°C, which is welcoming, especially if you're coming from a cold country.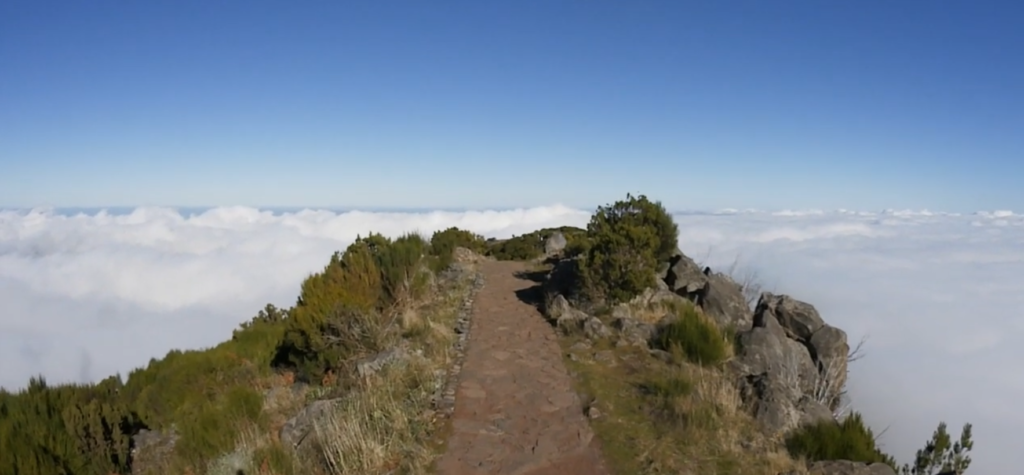 Living in Madeira after immigration can be 25% cheaper than in German-speaking countries. There are many activities to do all year round: mountain climbing, diving, surfing, sailing, paragliding, cycling, and more!
Moving and Finding a Place to Live in Madeira
Find an apartment in Madeira
Before booking a flight and packing your bags, make sure you have a place to stay here.
When choosing the city to stay in, consider your circumstances.
Are you single or with a family?
Do you have a pet?
Are you going to work from home or start looking for a job?
All these will come to play when looking for your flat or house here.
How not to move to Madeira
If you really want to move, don't be dumb like me and fly multiple times back and forth. I was unsure at the time, first in a hotel, then at a tourist apartment, and frequently flying back to Germany. A waste of time, energy, and money (I wish I could go back and be wiser!).
It makes more sense to prepare yourself a checklist with the things you need. Ship your belongings in one container.
I thought a container is too expensive. I figured I didn't have that many things and booked additional luggage for my flights to Portugal. But then I realized: OK, I have to keep 28 folders from work, and there's also this e-bike that I can't let go of.
…oh, and my cameras, my lighting system from the studio, and my widescreen monitor have to go in.
E-Bike to Madeira?
I didn't do enough research to understand that an e-bike is considered a dangerous good. I was not allowed to transport it by flight with or without the battery. In the end, I had to ship it from Germany to here.
Flights are poison to sensitive electronic equipment
My best monitor was split open after a flight, even though I had it in its original packaging. Extra baggage on flights is also unbearably more expensive than one container shipment: I could have saved many hundred euros had I shipped all my things in a single instance.
Rent right away, don't waste money on touristic apartments in Madeira
When it comes to choosing a place to stay after immigrating to Portugal, many people dwell in tourist apartments for months. It's, of course, much cheaper to search for a place to rent, especially if you plan to stay here for a few years. Watch out: Rent prices don't include water, electricity, and heating. And: In my city, Funchal, you can easily spend 800 Euros per month for an exclusive place.
Do the opposite of what many Portugal immigrants do
Many expats, digital nomads and tourists come here in spring and summer. Because of this, many properties are packed during this time but become vacant in winter. Go against the cycle. Economics 101 tells us that prices go down when there is less demand. So, make sure you schedule your trip during wintertime when rental prices are lower. I found my apartment during the covid crisis – on a rainy day in winter.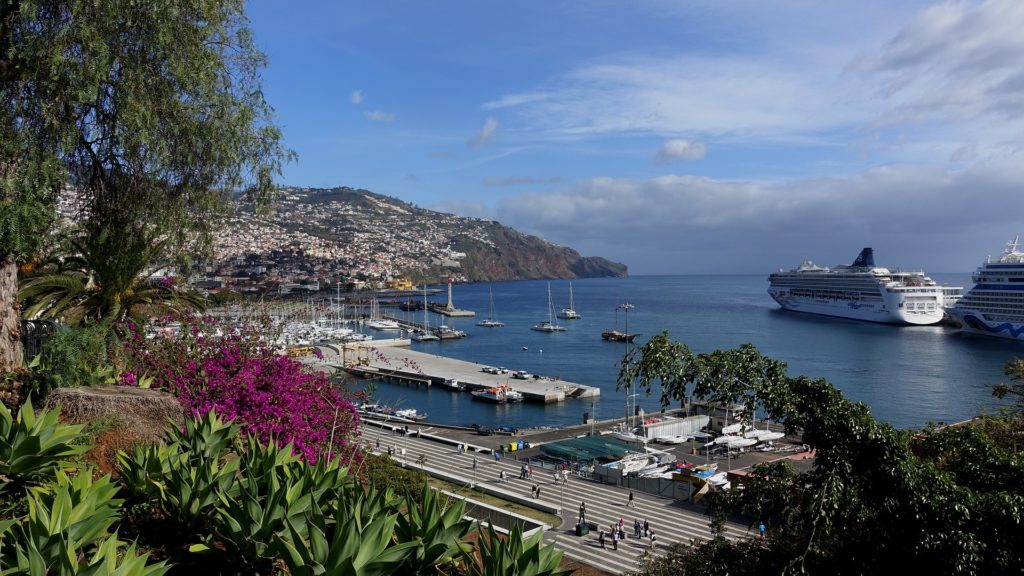 Another tip to save money on housing in Madeira
Rent farther away, just a few roads up towards the city's hill. You can also go to one of the small towns around Funchal. A place like Machico isn't bad if you want to stay close to a sandy beach. A small town, Ponta do Sol, where many digital nomads roam, can also be a good spot.
Like in Germany, property agents have many duties, and consumer/renter protection is highly regarded in Portugal. But the rent contract is written in Portuguese. Use Google Translator to understand the contract well.
Rental contract as a prerequisite for long term tax number in Portugal
Once you have a contract, you can use this as a document when applying for Numero de Identificacao Fiscal (NIF), your tax identification number. Bring your ID and any utility bill (electric, phone, etc.) when applying for NIF. Typically, the tax office will quickly print out the NIF hard copy and hand it to you without much hassle.
If you managed to secure a long-term rent contract, get yourself a tax number for residents. If you only got one for under six months, you get a NIF for non-residents. However, you can easily convert into a full-fledged NIF later on. Don't forget to get your NIF on your first week in Madeira: You need this number for everything here!
What's the Portuguese NIF for?
You will be using your Portuguese NIF number for many things, such as
buying/ renting a car,
buying office supplies for your company,
getting a job,
seeing a doctor,
consulting a lawyer,or
opening a bank account, for example.
However, you can't buy a house with a NIF number. You need an EU residence registration certificate to do that.
Immigration to Madeira or Portugal doesn't Waive Your Tax Obligations in the country you came from
I'm not a tax consultant. The tips that I will tell you are based on my personal experience (for Germany).
Moving to Madeira doesn't automatically cancel your German citizenship or tax obligation.
As a German citizen, you are still subjected to its tax laws. The tax law in Germany covers all its residents, regardless of where they are, if they have ties to Germany. If you don't pay your taxes, you can get prosecuted for tax evasion.
If you go back to Germany and stay there for less than 183 days, you will not be obliged to pay taxes, provided that you have your residence and business canceled already.
The German tax office, however, wants to eradicate attempts of tax evasion. This is how German tennis player Boris Becker sadly became famous. He had a key to his sister's apartment in Germany. This wasn't an apartment that he rented; he just spent time in the apartment – and this even less than six months per year.
Becker was suspected of having a habitual residence in Germany. He received half a million fine plus two years of suspended imprisonment.
Things like toothbrushes, deodorants, and shaves in your parents' guest room and your clothes in the wardrobe can be included in evaluating prevailing circumstances. If the tax authorities is going to audit, don't leave your guard down. When you live abroad, throw away all unnecessary personal items and bring everything you need to Portugal. (Be aware that you have to keep many documents up to 10 or even 15 years.)
If you have to go back to Germany for whatever reason, you have to live like a tourist.
Dental care, deodorant, and clothing go into your luggage; leave nothing at your former home.
If you're involved in a German company (limited), even more stringent rules apply to you. Consult a tax lawyer to help you gracefully exit your employer.
Keep all flight tickets and boarding passes. These are pieces of evidence of your travel to and from Germany.
Tax consultants in Portugal are not liable for errors or your tax filing like in Germany
Tax consultants in Portugal are trained differently from German tax advisers.
Portuguese accountants or lawyers are not experts in German taxation. So, if you want to leave Germany for good without violating tax laws, you need to hire (or stick with) a German lawyer.
If you want to establish a business in Madeira, you also need to hire a local tax expert to help you. Again, the taxation rules that you know in Germany are not applicable here. To be safe, always act upon the instruction of your Portuguese lawyer.
Portuguese Health Care User Number Número de Utente
After taking care of your taxes, the next thing you need is the Numero de Utente. Like your tax number, the Número de Utente is a vital ID number to avail of the Portuguese government's healthcare program.
You will get more surprising subsidies, such as for blood tests (50%) or in case of an emergency at the hospital. To get the Número de Utente, you need to know which Centro de Saúde (health office) is designated for your residence.
Later on, add additional private insurance to get better healthcare services. In some respects, the health insurance here offers better privileges and is cheaper than in Germany.
Apply for the Non-Habitual Residents (NHR) Program in Madeira
The NHR is a special tax regime that enables expats to enjoy reduced tax rates on Portuguese-source income. At the same time, foreign-sourced is already exempted from Portuguese taxation.
Everything I'm now saying has nothing to do with dubious savings schemes or rogue states on the EU's blocklist. To be clear: Portugal is on the EU's safelist. I was admitted into the NHR Program for ten years. If you have been a resident taxpayer for five years already, you can apply for the NHR status.
Almost everything in NHR works according to sources of income. NHR is a great help since personal income tax can be as high as 48% in Portugal.
If you have NHR status and practice a particular profession, or are self-employed, you will get a flat tax rate of 20% on income earned within the country. Your income outside Portugal is not subjected to taxation.
Here is a shortlist of professions that are eligible for the NHR:
investors, experts in physics, mathematics, engineering, and similar technical jobs, doctors, dentists;
heads of civil and commercial services, company directors and executive leaders of the hotel and catering industry
trade and other services,
architects, engineers, geologists, tax advisers, auditors;
HS teachers, psychologists, technicians and holders of other liberal professions, biologists, archeologists, researchers, developers, computer scientists, designers, and journalists;
visual artists like painters and sculptors, performers and musicians for theater, ballet,
film, TV, radio, theater or ballet,
members of company boards and management, information service and service provision, programmers and software advisers, and related services.
My lawyer designated me as a self-employed trainer to qualify me for the NHR. I also had to pass a rigorous tax inspection and evaluation before getting this tax privilege. You really have to get the best lawyer to guide you every step until your application gets approved.
The NHR status is valid up to 10 years from the date of issuance. After the period lapsed, you need to pass another evaluation to retain your tax status.
Last Words
At this point, you now have an idea of the challenges you will face when moving to Madeira. If you're not sure you will like it here (of course you will!), it is wise to try the island's lifestyle for a few months.
During this time, remain a German taxpayer while exploring the sights, culture, and work opportunities here. Don't make abrupt decisions that you might regret later on.
Moving to Madeira needs a lot of preparation. It will take you months to prepare all the things that you need. To make the immigration procedure fast and easy, hiring a lawyer is the safest route.
Before making a big leap, always consider your actions' consequences and the budget you are willing to allocate for your goal.
But if your question is if it's worthy moving here, my answer is 100% yes!
I could only move here because I had been able to boost my own career (by helping other people). My occupation gave me incredible freedom and you can read here why I prefer the business model of being a trainer over being a coach and why you should care about becoming a business trainer.