Emigrate to Madeira: it can be easy
I've been abroad in Madeira for over a year. If you're also from an EU country and considering leaving, you can also avoid three things that have drained my wallet and stressed me out.
These three things are about:
Moving and finding a place to live,
getting out of your country's tax obligation and
getting yourself a special "NHR" taxation status for tax relief.
…and you must tackle them on one by one – chronologically.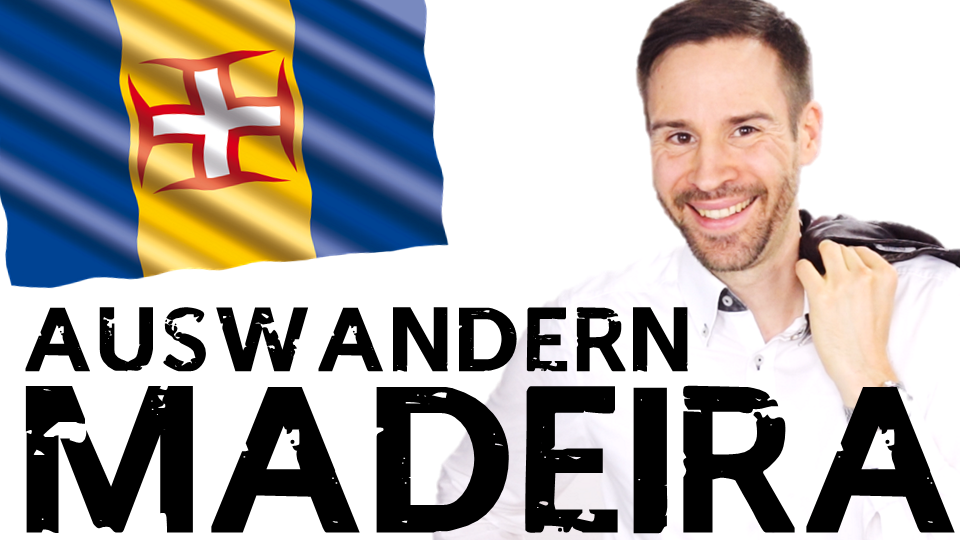 If you skip a step, you will miss important documents for the next step.
As a bonus to this video about important monetary aspects of going expat, I have an interview with my good friend and fellow business trainer Alexander Dammann for you.
Alexander is, like me, self employed and has visited me in Madeira for a longer time. Alex will offer you a second opinion on soft factors, so daily life in Madeira and whether he would also move out from here.
Overview: Madeira for expats
Madeira lies 1000 km south of Lisbon, it is a Portuguese island and thus a part of the European Union. As an EU citizen, you can basically move freely to the island.  But after three months you have to apply for a residence permit at the city administration.
Almost everyone here speaks English.
Cliffs shape the island's profile and from inland it can get up to 1.860 meters in height. These are pictures of the place – as you can see, it's worth the price to visit for hiking. Its weather alone is a reason why it's in my opinion worth expatriating to: Everyday six hours of sunshine.
Living in Madeira can be up to 25% cheaper than in German-speaking countries and besides expating, you can also, say, climbing, diving, surfing, sailing or kickboxing.
Now we come to the first challenge: moving and your place to stay:
Firstly, if you've considered a city like, e.g. Funchal, for a longe-term (say, a few weeks), you should decide moving there. This hasn't included other considerations such as your personal environment (with family, if you have one) and job-related issues: Can you work remotely? Is your job stable? etc.
If you really want to move, don't be dumb like me and fly multiple times back and forth. I was unsure at the time, first in a hotel, then at a tourist apartment and I was frequently flying back to Germany.
It makes much more sense to make a firm decision and then pack everything you have back in your country and ship them inside a container.
Extra baggage on flights is unbearably more expensive. At first I thought I didn't have that many things. But then I realized: OK, there are 28 folders from work that I have to keep, and there's also this electric bike that I have.
…oh, and my cameras, my lighting system from the studio and my wide screen monitor, that has to go in. Did you know, for example, that a normal e-bike is considered a dangerous goods? You're not allowed to transport it by flight with or without the battery. My best monitor was split open, and then I had to send the e-bike via maritime shipping.
I could have saved thousands had I shipped everything in one big operation. I actually want to give an (unsponsored) recommendation for M.E.L. Maritime Gmbh (www.mel-maritime.net) in Hamburg. They really know their stuff and are willing to speak with private individuals. What many people do is staying at a tourist apartment for months. It's of course much cheaper to search for a place to rent.
But STOP: before you browse Idealista and cybermadeira for places to stay, please get yourself a portuguese mobile phone subscription.
From now on, you present yourself as a "local" to landlords. I noticed this: Trust is immediately higher when you show that "Yes, I too have a portuguese phone connection" – I think it's serious.
All rent prices don't include water, electricity and heating. In the center of Funchal you can easily spend 800 Euros per month for an exclusive place.
Here's another situation: Many expats come here at the exact time when tourism is booming, in the middle of summer.
Many properties, full during the summer, become vacant in the winter. Or they stay vacant at times of crisis. I once went against the cycle and was slammed by the first big wave of covid-19 in the middle of winter.
I've been renting a wonderful apartment besides the Reid's Hotel where Winston Churchill once stayed as a guest – almost directly beside the coast.
If you want to save money, rent farther away high in the mountain or in one of the small towns around Funachal. A place like Machico isn't bad if you want to have sandy beach or like the sleepy small town of Ponta do Sol where many digital nomads roam about.
… oh yeah: in most coastal cities heating is not necessary. Thus a major source of costs is eliminated compared to Germany.
Like in Germany, property agents have many duties and consumer/renter protection is highly regarded in Portugal. But the rent contract is written in Portuguese.
A Tip: Google Translator.
If you are serious in becoming an expat, this rent contract is your ticket to be freed from german tax obligations still in this calendar year and perhaps get a much better deal in Portugal. Next obstacle: Relinquishing german tax obligation.
This video is in no way a substitute for your tax consultant. But still, I just want to share my experiences: Now, once you have a rent contract, you can acquire a NIF or short *Numero Contribuinte* at the tax office.
Bring along your personal ID and rent contract (or an electric or water bill). Normally, the tax office will quickly print out the NIF hard copy on this beautiful piece of recycled paper and give it to you.
If you managed to secure a long-term rent contract, then get yourself a tax number for residents. If you only got one for around under 6 months, you get an NIF for non-residents, which you can latter easily convert  into a full-fledged NIF.
Here we encounter another situation: Many are so happy about their new place, that they forget that it's best to get the tax number in the same week.
But the number isn't a necessary precondition for everything that you – as a tax citizen or as a self-employer – do in Portugal. Sure, when you're buying a folder for your storage, you will be asked for your NIF number.  Likewise at the doctor.
Buying property is also impossible without NIF and if you want to open a bank account in Portugal, you will need … you guessed it: an NIF number. By the way, I noticed that a local bank account is actually the least important thing.
(Exception: Buying a house) What you need is only the EU residence registration certificate of your municipality. This registration card certifies your residence.
You will need it later to cancel everything in Germany that will no longer apply for you anyway. Among others, fitness studio membership, your german health insurance, public tv license fee and all these small subscriptions that you usually closed. For most, your subscription immediately ends due to your moving out.
Two: Successfully waivering german tax obligations
What do I do to be freed from german tax obligations?
In short: You have to totally uproot yourself from Germany. So report your residence and, I had forgotten this, also your business in Germany! If you forget one of these, you will still be obligated to pay german taxes. Whatever you arrange for a great tax deal in Portugal: It won't be effective.
You would still have to pay taxes in Germany on your income from anywhere in the world. And now it gets worse: If it is seen by the german tax office justified that your habitual residence, i.e. § 9 AO, is in Germany, then you must pay tax in Germany regardless … whether you have already reported residence and business or not.
Watch out! You can get prosecuted for tax evasion if everything doesn't go neatly.
If someone resides in Germany for less than 183 days, normally at first will not be obligated to pay tax in Germany, provided everything else has been canceled. The tax office, however, wants to eradicate attempts at evasion.
This is how Boris Becker sadly became famous: He had a key to his sister's apartment in Germany. This wasn't an apartment that he rented, he just spent time in the apartment less than 6 months per year.
The key in this case made Becker become suspected of having a habitual residence in Germany. He received a fine of half a million and also two years of suspended imprisonment.
Things like toothbrush, deodorant and shaver in the parents' guest room and even clothes in the wardrobe can be  included in an "evaluation of general circumstances. If the tax office is going to audit, don't leave your guard down: When you go living abroad, throw away all unnecessary documents that maybe is still in the children's room at your parents' or relatives' house, bring to Portugal everything that you have to legally keep. Your files must not be in Germany anymore!
– Behave like a tourist while in Germany.
Dental care, deodorant and clothing go into the luggage with you, leave nothing at home.
– If you're involved in a german company such as a GmbH, very strict rules apply to you. Consult this, like in all matters, with your german tax adviser.
– Keep all flight tickets and boarding passes  meticulously. This will practically be enough as evidence and will often be requested.
My tax adviser kindly reminded me about the business registration. Think about it: tax advisers in Portugal are trained differently from german tax adviser.  In Portugal there is no tax adviser in the sense that germans understand. However, over there only lawyers, certified accountants and auditors may give tax advice.
The first starting point for meaningfull tax advice is, according to my experience, a lawyer, or, if you have your accounting done by a remote bureau, then an accountant authorized there who gives tax advice.
As a small entrepreneur, you'll find it hard to quickly come into contact with an auditor. The important thing is: If you want to arrange your taxes, e.g. establishing  a company in Portugal or abroad, then you should contact a lawyer in Madeira or in Portugal who is able to really do that.
An unsponsored example for this are among others https://anwalt-portugal.de (Dr. Rathenau and Associates) or Mad.intax Funchal (Nuno M. Coelho) http://www.madintax.com
Bonus to health insurance
Let's take a short breath: You now have got a rented place in Portugal, a tax number and you know that if you thoroughly stay away from Germany (only stay there for less than 6 months) you won't have to pay german tax. Now what you want is to pay cheaper income tax (or business tax) in Portugal, namely starting from the calendar year when you for the first time reside in Portugal for over 6 months.
A short comment: One thing that many expats nowadays forget is to apply for a Numero Utente. Just like your tax number, the Número de Utente is an important ID number there for using basic services from the healthcare system.
You will get more and more surprising subsidies such as for blood tests (50%) or in case of emergency at the hospital. To get the Número de Utente, you have to find out which Centro de Saúde (health office) is designated for your place of residence.
Please bring your personal ID and NIF number as well as your residence documents. It is thus the gateway to free or subsidized essential health services in Portugal.
Later on, add an additional private insurance in order to get a better level of care than in Germany with mostly lower costs.
I uploaded for you some examples of relevant documents in the Community area. There you will also find additional private health insurance that I have opted for myself.
Nothing there is sponsored or receives ad revenue. You will automaticly enter our Member Area when you subscribe to our Newsletter. And that brings us to the third challenge: How do I achieve the special taxation status, and recognized in NHR Program?
Certain sources of income can be exempt from taxation in Portugal if granted in your application for the so-called NHR tax regime.
Everything that I'm now going to say has nothing at all to do with dubious savings scheme or rogue states on the EU's black list. To be clear: Portugal is in the EU's white list. I myself was admitted into the NHR Program for 10 years and I'm going to describe what you will have to discuss with your tax advising portuguese lawyer/accountant for your specific case.
If you have the right to reside in Portugal and are a resident taxpayer (which we've achieved from the preceding steps) and – now this is important – have not been
a taxpayer in Portugal in the last 5 years, you can apply for the NHR status, provided that you have a place of residence somewhere in Portugal.
RNH stands for RESIDENTE NAO HABITUAL. In English NHR: Non-habitual resident.
The government here has made tax exemptions and special tax rates for entrepreneurs, private individuals and professionals which has been especially valuable for Portugal's economy. A note: Almost everything in NHR in principle works according to sources of income. For Perspective: In Portugal personal income tax can be as high as 48%.
But if your NHR application has been granted, and you have a certain profession, or pursue a certain self-employed work, then the NHR regime offers a flat tax rate of 20% on income generated in Portugal. And if there is a double taxation treaty, your income generated from abroad can not be taxed.
Here is a short list of professions the portuguese state designates as "high cultural and economic value":
investors, experts in physics, mathematics, engineering and similar technical jobs, doctors, dentists,
heads of civil and commercial services, company directors and executive leaders of the hotel and catering industry, of trade and other services,
architects, engineers, geologists, tax advisers, auditors
HS teachers, psychologists, technicians and holders of other liberal professions, biologists, archeologists, researchers, developers, computer scientists, designers and journalists
visual artists like painters and sculptors, performers and musicians for theater, ballet,
film, TV, radio, theater or ballet,
members of company boards and management, information service and service provision, programers and software advisers as well as related services.
My lawyer tended to call me a self-employed trainer in order to "put me somewhere in the list".
Please: this is the last item you should bear in mind: Like in any country, applications must also pass a later tax inspection.
Think about it, a lawyer who – unlike german tax advisers – will not watch out for you if mistakes happen. So take some time to analyze yourself and, if need be, get a second opinion. I have seen the original list in Portuguese and English (everything deposited for you in the Member Area).
I have not found myself there after critically inspecting it. Lastly, I and my lawyer took a special path in order to be able to apply for NHR status.
…and it worked. From the NHR system there are pensioners, entrepreneurs and private individuals invest in financial assets.
For up to 10 years the Portuguese state grants, if all preconditions are met, tax exemptions for foreign sources of income – examples are income from capital, interest,
dividends and license fee.
I believe you now have your first overview on a series of small and big challenges that you have to take if your intentions are serious and really want to move abroad to Madeira. It makes perfect sense to try out the island for a few months at first.
You remain a German taxpayer and get to know the island. Just don't be like so many daydreamers and tell everyone: "Oh yeah, I'm gonna live here for ever",  just to then move out after 6 weeks because you don't want to spend money for a lawyer.
The locals will respect you when they see that you are making firm decisions and not just a vacationer.